ReBlade, the UK's first specialist wind turbine blade and nacelle decommissioning service, has scooped a major win at the prestigious Scottish Green Energy Awards 2022.
After being shortlisted in the Sustainable Development category, ReBlade was presented with the Judges Award which celebrates projects, organisations or people that fit the criteria for a number of award categories, or which have 'genuinely shifted the dial' for Scotland's renewable industry. 
The Scottish Green Energy Awards is Scottish Renewables' flagship event. It took place in Edinburgh on 1st December, where more than 1,200 guests celebrated Scotland's renewable energy industry and recognised the achievements of 46 finalists, and 13 award winners.
The Judges Award, which was sponsored by Ocean Winds, was the penultimate award of the night, and was presented to ReBlade for the Circular Disposal of Wind Turbine Blades. The Judges Award is unique in recognising projects that are 'truly ground-breaking on multiple fronts, that demonstrated excellence in vision or best practice, or simply left a deep impression on the judges because they so firmly upheld the values of our sector.'
Accepting the award, Director Steven Linsday spoke from a ReBlade podium - made from a decommissioned turbine blade - about how heartening it is to see the importance of the circular economy being celebrated by the renewables industry. 
Speaking after the awards, Director Fiona Lindsay commented:
"We are absolutely thrilled – and more than a little surprised - that ReBlade's work in developing circular solutions for turbine blade waste has been recognised in this way at such an early stage in our business journey.
"The Scottish Green Energy Awards celebrates the very best of our industry, so for our work to be celebrated amongst such inspirational examples of excellence in Scotland's renewables sector is incredibly heartening.
"Taking the circular economy seriously and embedding sustainable practice within each and every stage of the site development lifespan is increasingly being seen as a minimum standard in our industry. We are delighted to be part of such a responsible sector, and we look forward to playing our part in developing circular solutions for our industry." 
Reflecting on the event, Claire Mack, Chief Executive at Scottish Renewables, said:
"What a fantastic way to round off what has been another incredible year for the renewable energy industry in Scotland.
"Every year when we receive award entries it is clear why Scotland is a world leader in renewable energy and I always marvel at the sheer scale of innovation, creativity, skill, hard work and commitment that goes in to making renewable energy such a thriving industry.
"This year we had 13 brilliant winners, but it is always really difficult to choose due to the quality of all the entries that we receive. Each category is unbelievably competitive, so I'd like to congratulate all those who were shortlisted, as well as those who took home awards."
The award win rounds off a breakthrough year for ReBlade in 2022, which has seen the company partner with some of the biggest names in the UK renewables industry, as well as securing funding from Innovate UK for groundbreaking research into repurposing blade composite material.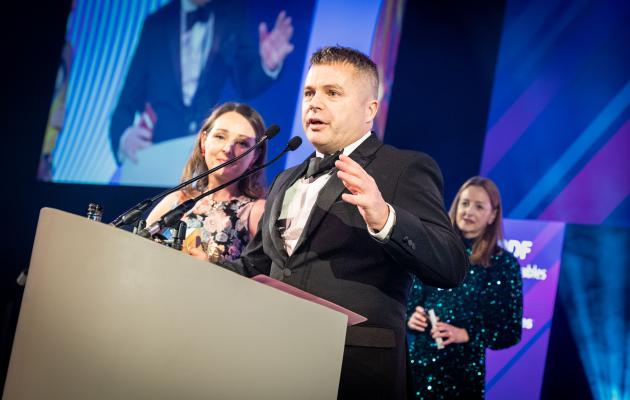 Tim Winterburn / Scottish Renewables