Energy infrastructure giant, SSE Energy Solutions, has announced that, subject to planning permission, the company plan to install canopies made from decommissioned wind turbine blades for their new EV charging hub at Kingsway West, Dundee.
The canopies have been designed by turbine blade experts, ReBlade, with the design patent pending. The blade canopies are believed to be the first example in the world of wind turbine blade-derived assets being redeployed as public realm infrastructure.
The approach has been informed by a recent Innovate UK research and development project carried out by ReBlade which assessed material properties and devised a materials handling framework for old wind turbine blades.
SSE plans to build 500 ultra-rapid EV charging hubs powered by traceable, renewable energy in the UK and Ireland by 2030 with several sites already under construction. SSE anticipates fitting more such canopies on future EV charging hubs
Fiona Lindsay, Director of ReBlade, said:
"SSE's vision for a circular, sustainable innovation is very much aligned with our own, so it's fantastic to be working with them to pioneer the use of old wind turbine blades in public realm infrastructure. 
"This is a ground-breaking project that demonstrates how practical circular uses can be found for turbine blade waste as it starts to come down in volume, and it's exciting to be part of a global first in evidencing the circular potential of blades."
Kevin Welstead, EV Sector Director at SSE Energy Solutions, said:
"The City of Dundee has shown great commitment to installing EV charging infrastructure and we want to support that development by giving drivers and fleet owners easy access to reliable and fast charging facilities.
"With EV sales growing exponentially they are going to take up a significant proportion of our country's total electricity demand over the coming years and at SSE we are investing to respond to that need, delivering innovative solutions such as these new hubs in Dundee."
Steven Lindsay, Director of ReBlade, added:
"This approach to repurposing blades values the inherent properties of the blade material, namely material strength and physical size, and uses them for a second-life purpose. It retains most of the embodied carbon in the blade, displacing the need for virgin materials.
 
"This is the green energy circular economy in action and we are confident that this approach can accommodate a majority of the first generation of decommissioned wind turbine blades due to come down in the UK and Ireland over the next 10+ years.
 
"We have always said that turbine blades and nacelles are too good to waste. They are certainly too good to condemn into destructive recycling which will involve massive destruction of existing material properties when they can be used for so much more. Right now we can take as many blades as the wind industry can give us.
 
"SSE Energy Solutions are doing groundbreaking work with their approach to EV hub plans, and we are proud to be working with them."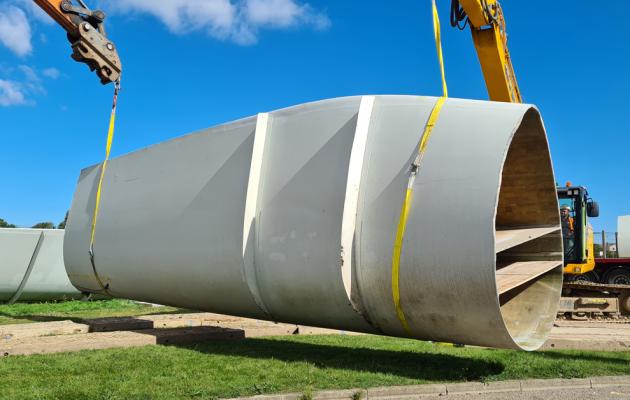 Cut blade being removed from site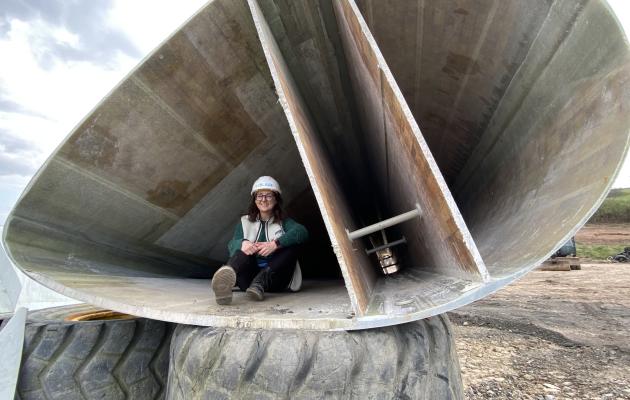 Blade is assessed and inspected by Fiona Lindsay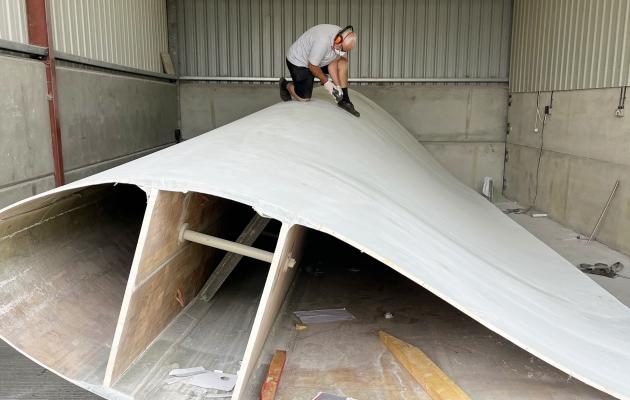 Blade material is repaired and repurposed