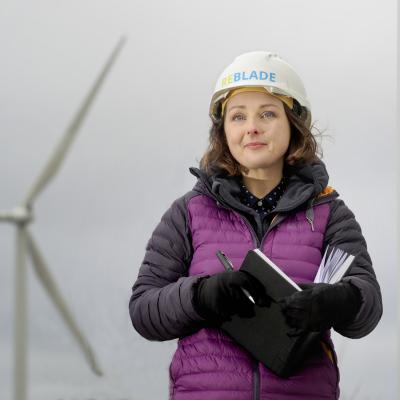 I'm starting 2023 more optimistic than ever about the commitment of our renewables industry to circular, sustainable practices that put the wellbeing of the planet at the very heart of operations.
Moving to ReBlade was a big leap of faith. Bootstrapping a start-up in a segment of the industry that didn't even exist yet was daunting to say the least!
I could see that between Steven and myself, we had a unique blend of experience and knowledge, and we both felt pretty sure that we could figure out some of the 'problems' that were hurtling fast towards our industry.
The biggest 'problem' was - of course - what to do with all the un-recyclable first generation wind turbine blades that will start coming down very soon. 
During 2022 we made some big strides forward in tackling that issue, and we are looking forward to some exciting announcements later this year.
But what gives me such a feeling of optimism isn't just the progress we've made as a new business. My optimism comes from seeing big names in the industry back a circular approach.
Our clients understand our vision for an industry that walks the talk in terms of minimising environmental impact. And they back our determination to create pragmatic, circular solutions that make economic sense to owner operators.
What a whirlwind the last few months have been for ReBlade. Ending 2022 with major award wins wasn't something we saw coming. To win the Technology & Innovation award at Holyrood Communications Green Giant Awards was a surprise. To win the Judges Award at Scottish Renewables Scottish Green Energy Awards was absolutely astonishing.
The purpose of this post isn't just to reflect on the progress we've made. It's to thank everyone who has supported ReBlade's journey so far. 
There is much still so to do to circularise and decarbonise our industry.
We've only just got started.